Mexico's electric reform is neither expensive nor dirty: Bartlett
|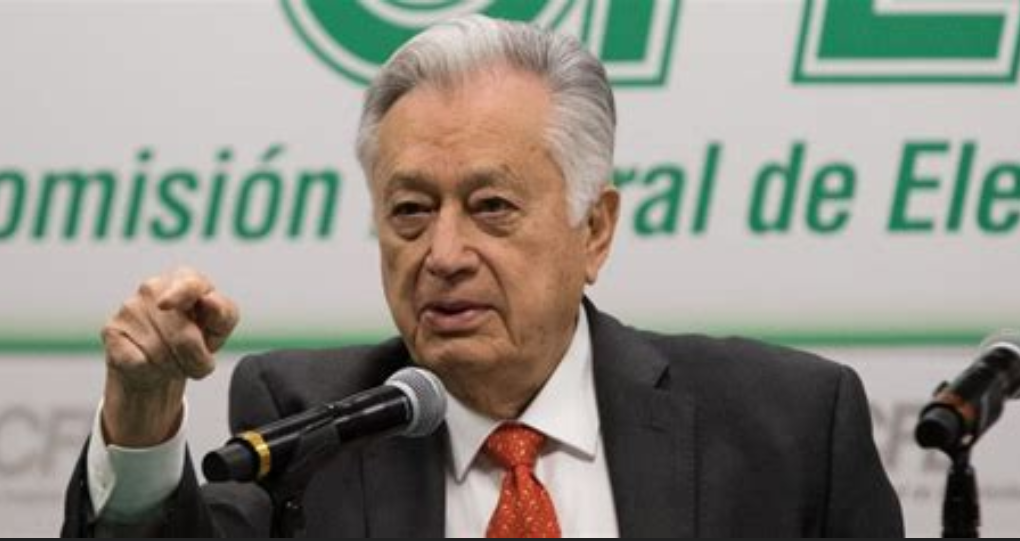 This Tuesday, the director of the Federal Electricity Commission, Manuel Bartlett, appeared before the Mexican Congress to answer questions from the representatives of all parties.
One of the topics that stood out during the appearance was clean energy production such as solar including the facility at Puerto Peñascon, considered to be the largest solar park in Latin America. It will provide power to Baja California and Sonora with a total of 1000 megawatts, of which 120 megawatts will be for Sonora in 2022, and 880 megawatts for Baja Californiana for 2024-2028.
The CFE head explained that transmission networks will be built and for the first time Baja California will be connected to the national electricity system.
The director of the CFE (Federal Electricity Commission), Bartlett affirmed that the State is committed to promoting the transition to clean energy with investment, technical analysis, scientific studies, and all the necessary capital. (Electrical Reform – 1h: 50 min)
El destino del país depende de la electricidad y la electricidad depende de la CFE. Analicen la iniciativa de #ReformaEléctrica, ya que garantiza el desarrollo del país, no atenta contra las energías limpias e invita al sector privado a participar en un mercado eléctrico justo. pic.twitter.com/SxB1FbrTcn

— Manuel Bartlett (@ManuelBartlett) October 27, 2021
Translation:
The fate of the country depends on electricity and electricity depends on the CFE. Discuss the initiative of

#ReformaEléctrica

, since it guarantees the development of the country, does not threaten clean energy and invites the private sector to participate in a fair electricity market.

pic.twitter.com/SxB1FbrTcn
– Manuel Bartlett (@ManuelBartlett) October 27, 2021
He also added that "A transition of this type is not achieved, which means going from polluting fuels to their disappearance, it is not possible to go buy from Denmark or bring these instruments [for solar and wind energy] from Germany if you don't have a "national transition policy" first.
He went on to emphasize that Mexico has to prepare to leave behind all hydrocarbons as quickly as possible and move to new clean energy systems, to "take care of climate change" which is part of the Energy Reform.
Bartlett, explained to legislators that with this energy reform, the president of the republic is proposing precisely a transition policy. And it's not just about accommodating energy regulations and quick capital gains, as has been done in the past.
Finally, Barlett clarified that the CFE is committed to true clean energy and not to "rogue businesses" that steal from the treasury and the nation. He gave as an example the tremendous economic expenditure of 40 billion pesos a year that the CFE spends only on energy to support to private, national and international companies, when they stop producing energy when there is no sun or wind. And even to more expenses when blackouts occur due to the corruption of some private companies.
Bartlett then took the opportunity to answer a question from a PAN deputy, Gina Gerardina Campuzano Gonzáles, about the blackout on December 28, 2020, which affected millions of Mexicans. He explained that experts were summoned and an in-depth analysis was carried out to find out what caused the blackout, and it was confirmed that the private Spanish solar wind farm company, ACCIONA, caused a national blackout in Mexico, that caused the fire resulting in the blackout, "due to errors and corruption," he said.
Corruption and these types of blackouts have caused "10 million, killed 3 sick people with covid, the maquilas in Mexico lost 200 million dollars per hour due to blackouts and the automotive sector had to reduce its capacity and production," said the deputy .
Director Bartlett concluded that the CFE is in favor of clean energy, and that it is a complete lie that the CFE wants to pollute the environment and that is precisely what the constitutional reform they want to pass is about. (2:09:55)
See the appearance:
Source: Chamber of Deputies
[contact-form][contact-field label="Name" type="name" required="true" /][contact-field label="Email" type="email" required="true" /][contact-field label="Website" type="url" /][contact-field label="Message" type="textarea" /][/contact-form]
Total Page Visits: 2350 - Today Page Visits: 1