AMLO Meets with AG Barr in Mexico to Discuss U.S. Weapons Illegally Coming into Mexico
|
Dic 6th, 2019
MEXICO–Attorney General William Barr traveled to Mexico City this Thursday to meet with the new center-democrat Mexican president Andres Manuel Lopez Obrador, or AMLO as he is known, to discuss a mutual cooperation between the two countries to stop the trafficking of millions of illegal U.S. weapons coming into Mexican territory.
William Barr flew to Mexico to discuss gun control and drugs. Mexico has very strong gun control laws and only one gun store in the country. Yet a rampage of murders with the use of firepower has Mexico drowning in U.S. illegal weapons.
In the last 10 years, 20 million U.S. weapons have made their way into Mexico making for 70%" of illegal weapons circulating in the country in the hands of criminals. The high rate of crimes are mostly perpetrated by young people under twenty five who have easily acquired them.
This summer a 17 year old killed a Mexican Navy General while trying to protect a mother and her child who got coughed up in a middle of a shoot out. Studies have shown the reason for the high crimes in Mexico are correlated to the easy access to American weapons coming from the United States trafficked by American citizens from Texas (40%), and Arizona (30%) into Mexico.
The problem is so acute, that Netflix had an episode about it.
Recently, there was a shoot-out in Sinaloa when the DEA along with local state authorities conducted a failed operation to arrest El Chapo's son. An operation that neither the president nor his security cabinet were informed of because that is how previous administration did it, they gave free pass to the DEA to run operatives in several states, something that President Lopez Obrador has now put a restriction ever since the incident. The operative became a failure when cartel members came out in the streets with U.S.military as .50 caliber weapons, normally use by NETO. The .50 caliber  can bring down low altitude airplanes, and to go through armored vehicles.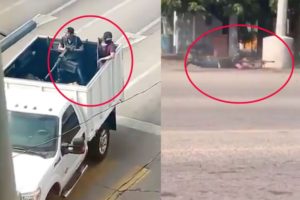 Mexican federal authorities were shocked to see U.S. military weapons in the hands of young criminals, and immediately contacted the U.S. authorities to ask how those weapons left their U.S. military bases without inspection.
Secretary of exterior, Marcelo Ebrard, arranged a time to sit-down and have talks with U.S. counterparts to set up a permanent integrated strategy to deal with, what Ebard calls it, a bi-national problem "not a U.S. only or Mexico only problem."
During talks between the both countries, two American-Mexican mothers and their children were killed with American made weapons AR 15. in another shootout in the Michoacan, a horrible event in which locals suspect it was due to water disputes with the LeBaron Family. Also, the Daily Beast reported a member of the LeBaron family to be involved in the recruitment of young Mexican girls by Lebaron's partner who was sending them to upstate New York with the false promise to work as babysitters– just to end up joining a sex cult. The sex cult called NXIVM become an scandal in the U.S. and Mexico.
Jacobin news explains that the Mexican conservative media and the political far-right, used the LeBaron tragedy as a political tool to push blame on President AMLO and promote talks about U.S. military intervention in Mexico– by designating cartels as terrorists. Something that governor Tulsi Gabbard fund it as "irresponsible" rhetoric.
Congressional lobbyists went to Washington D.C in November to ask congress to fund once more the Merida Initiative, a program signed by the U.S. and previous two Mexican presidents, Caldron and Peña Nieto. The treaty allows to give Mexico an annual weapons package of $4.5 billion for the war on drugs that President Calderon initiated in 2007 and which produced 240,000 deaths during his administration, many of whom were innocent civilians he called "collateral damage."
AMLO, Mexico's first progressive center-left President in 70 years, who is now combating corruption in the government, explains that the death toll in Calderon's war on drugs was bigger than that of the Mexican revolution of of 1910.
Congressional democrats agree with Mexico's President, in that the War on Drugs and the treaty was a 15-year long program that became a "complete failure." Yet, despite the obvious, some corporate U.S interest groups insist that Mexico needs more weapons to continue fighting the war on drugs.
Mexico ended the war on drugs at the beginning of 2019, and it was announced in front of the United Nations representatives and the international community in Mexico City who were there to support the move and to talk about improving poverty and immigration. During that U.N. visit to Mexico this summer, an integrated and comprehensive long-term security plan to end the crime rate in Mexico was presented. AMLO's plain will be executed by the security cabinet in coordination with several departmental agencies, and supported by an impressive line of domestic and international organizations and NGOs. The plan was presented in great detail at president Lopez Obrador press conferences, with the participation of many governmental representatives.
The comprehensive security plan includes 3 strategic brackets
1. Strangulate the cartels out of human capital, so they can't recruit members.
2. Remove access to weapons coming from the U.S.
3. Cut them off financially.
4. End corruption by going after officials workings with cartels.
At the core of the strategy to tackle the crime problem at its root: to bring the youth out of the streets and provide security and jobs.
List of already executed security programs.
a) Open a new National Guard with 250,000 well-trained man/women. (DONE)
b) Provide 2 million scholarships (DONE)
c) Open 100 universities ( DONE)
d) Provide full-time paid internship jobs to young people those who are not in school or have a job. (1 million so far).
e) Job creation for farm workers with not a job. With the program PLANTING LIFE 900 thousand permanent full-time jobs have been created and more coming next year.
f) Micro loans with no interest to small business, entrepreneurs, and farmers.
g) Farm subsidiaries in a form of providing crops, fertilizer, water system, training, machinery, and full-time farm workers.
h) Price guarantee, so people get out of the streets and cultivating mariguana for cartels and back into profiting from real farming. 70% of amapola and mariguana production has gone down thanks to the comprehensive AMLO's PLANTING LIFE PROGRAM.
This Thursday's meeting with Attorney General Willam with President Lopez Obrador was done under amicable terms.
Buena reunión con el fiscal general de Estados Unidos, William Barr. Como abogado comprende que nuestra Constitución nos obliga a ceñirnos a los principios de cooperación para el desarrollo y a la no intervención en política exterior. De este modo siempre podremos trabajar juntos pic.twitter.com/rR37JoBgZA

— Andrés Manuel (@lopezobrador_) December 5, 2019
AMLO twittered saying he had a "Good meeting with the United States Attorney General, William Barr. As a lawyer, he understands that our Constitution obliges us to adhere to the principles of development, cooperation and non-intervention in foreign policy. In this way we can always work together.
Total Page Visits: 186 - Today Page Visits: 2