Is a slow dictatorship being Installed in cities all over the U.S?
|
BREAKING NEWS:
The situation in Portland, Oregon (a liberal state) is escalating at a rapid pace despite the fact that the governor and the mayor are protesting that they did not approve the incursion into their city and state.
Trump began sending federal agents to kidnap people on the streets of Portland and putting them in unmarked vehicles. This week, Portland's city mayor was also attacked by federal agents while trying to protect residents of Portland. The federal agents are dressed as soldiers, a scene familiar to those living in a dictatorship (Chile).
AND WHO ARE THE MYSTERIOUS HUMAN SNATCHERS?
Trump sent Customs and Border Protection (CBP) agents – who are normally deployed for terrorism, immigration and drug enforcement cases – to attack mothers peacefully protesting in Portland this week.
Progressive news YouTubers like David Doel and Jimmy Dore are already calling this:
"The Installation of a Dictatorship in the US"
Trump has plans to do the same in Chicago, Philadelphia, New York and other liberal cities.
Bloomberg reported that the situation is so dire in Portland, that the Philadelphia Attorney General is prepared to arrest federal agents, and charge them for kidnap and other crimes.
"Where is the United Nations in all of this? If this was a country in Latin America they U.N by now would be condemning Human Rights abuses." said Michael Max.
The city Major of Portland, tweeted today that Trump has authorized the use of live ammunition on the citizens of Portland.
Links
https://www.bloomberg.com/news/articles/2020-07-22/philly-d-a-threatens-to-arrest-federal-agents
Philadelphia's Top Prosecutor Is Prepared to Arrest Federal Agents
After Trump said he would send agents to more cities, Philly's district attorney lays out how he might criminally charge federal officers.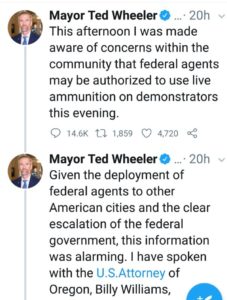 Mayors in Chicago, Kansas City, Detroit and Jacksonville have rejected President Trump's threat to deploy federal agents to their cities to crack down on protests. Instead, they say the administration should help tackle problems like gun violence.
Cities Say They Want Federal Agents Fighting Crime, Not Protesters – Rejecting the deployment of camouflaged federal agents, big-city mayors said the Trump administration should use its resources to help tackle problems like gun violence.

David Doel

Jimmy Dore

Total Page Visits: 263 - Today Page Visits: 1