AMLO approval rises to 72% and getting stronger

Listen to this article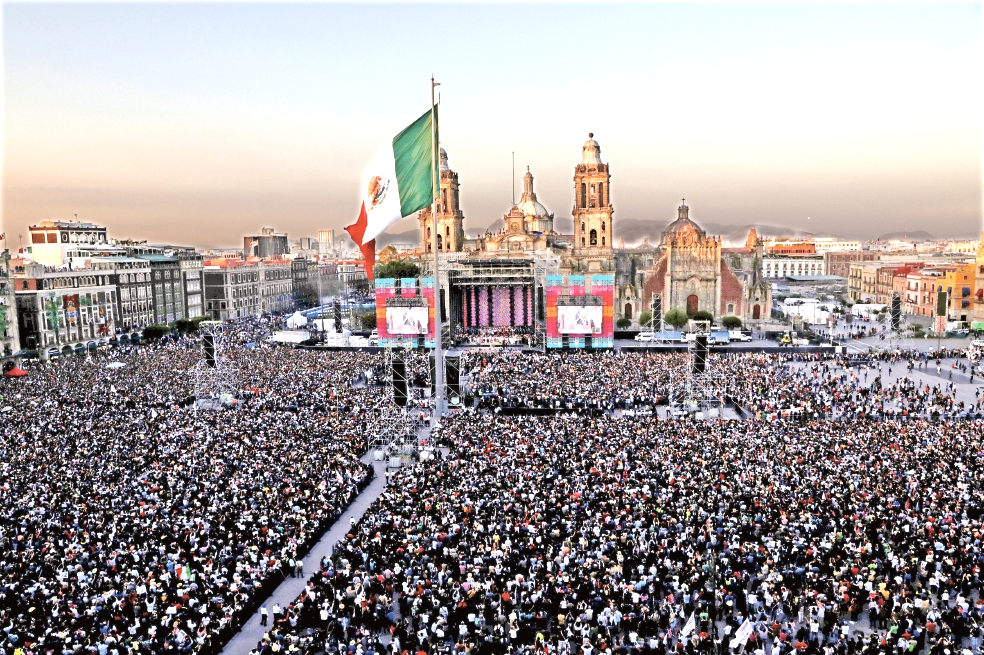 January 6
Progressive center-left President, Andres Manuel Lopez Obrador, currently enjoys an approval rating increase of 72% after reaching his first year in government. The president's approval closed 2019 with a 4-point increase, according a survey by El Financiero newspaper.
López Obrador also registered a six-point improvement in his leadership image, going from 52 to 58 percent of favorable opinion.
Lopez Obrador, or AMLO as he is also known, has provided a very successful agenda and at its core the focus is to combat corruption, which many agree is the root of the socio-economic problems in Mexico.
The poll shows favorable with a positive opinion about AMLO's tackling corruption, that went up 7 points from 34 to 41 percent.
Many world leaders, including the United States, have observed AMLO's government's agenda and "incredible leadership skills," said Robert Lighthizer the U.S. official in charge of the USMCA trade deal, the day the deal was signed in Mexico city, where hundreds of guests from U.S, Canada, union, public and private sectors gathered.
What is AMLO's secret?
AMLO explains that one of his strong suits is his moral authority, and he says "when there is moral authority, you can have political authority." Following on his campaign promises he says is one of the reasons why people continues to support him. But what characterized AMLO among many world leaders is his genuine love for his country and the people.
During his first year, AMLO traveled the country 100,663 miles, that is 3 trips around the world, attending to the needs of the country 16 hours a day, 7 days a week.
Literally, the man never rests. AMLO gets up at 4 AM to meet with his cabinet at 6 AM. Then have a daily press conference at 7 AM, five days a week. He can be seen working until 9 PM including weekends, when he meets with governors and citizens in locations nationwide using commercial flights.
Even though, in his first year, AMLO never traveled outside the country because he was dedicated 100% to fixing corruption and social inequality in the country; dozens of leaders worldwide visited AMLO in Mexico in 2019.
It's quite impressive because you mostly see this type of behavior in the United States where world leaders and influential people come to visit the President.
Mike Pence, Pompeo, AG William Barr, Democrat and Republican senators and congressmen visited ALMO several times in 2019 at the national palace in Mexico City.
Other leaders who have visited AMLO are Luxembourg Prime Minister Xavier Bettel, Spain's president Pedro Sanchez, Singapore's Prime Minister Lee Hsien Loong, Argentina's president Alberto Fernandez, and Michelle Bachelet, High Commissioner for Human Rights U.N.
Hollywood actors like Richard Gere came to visit AMLO, both share a life-time of work in support of Human rights.
Sports personalities like Andy Ruiz, world champion Boxer, and Rob Manfred, Major League Commissioner, and NFL commissioner, Roger Goodell also shook hands with AMLO.
Businessmen like BlackRock's CEO, Laurence D. Fink, Ikea CEO, IMF & World Bank Presidents (no loans), JP Morgan and HSBC global directors.
In 2019, AMLO gained the trust of most major banks worldwide, and yep, you guessed it, they also traveled to Mexico City to meet with AMLO.
In one year, AMLO was able to save the public oil company PEMEX, and also saved billions in oil profit by ending oil theft, passed a historic Labor Reform giving democracy to unions, and convinced the private sector to raise salaries 20%, a historic increase in the last 40 years.
Furthermore, AMLO gave Mexicans universal healthcare joining Canada's model, and planted one million trees to help the environment.
Oh, and in his spare time AMLO wrote a book called Transitioning to a Moral Economy.
Is this man for real? Yep, this poll shows a fraction of what AMLO is to Mexico's feature, a bright one it seems.
=========================
Note: The list of AMLO's achievements on his first year in government, literally, they can't fit all in one article, but you can check AMLO's daily morning conferences or read the 900 page of his administration fifth quarterly report, or check AMLO's economic agenda online for more information.
Total Page Visits: 249 - Today Page Visits: 1
About The Author
Mexus